05 Oct

76th Central Anniversary Event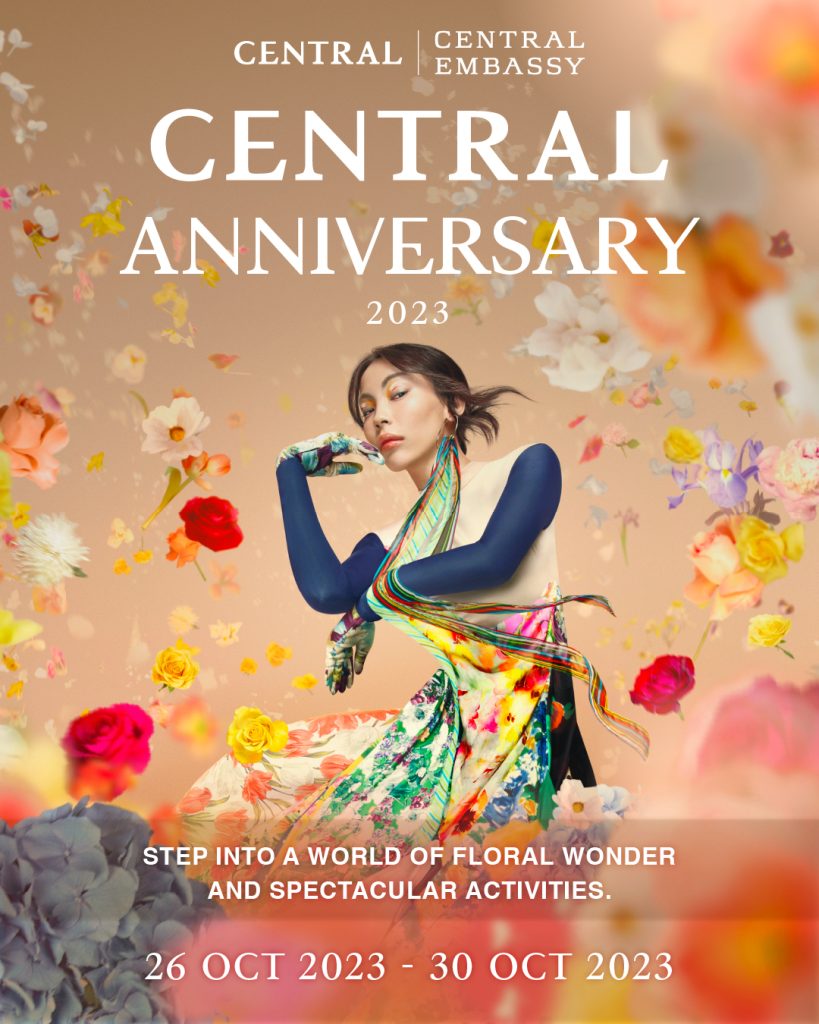 เพื่อเป็นการเฉลิมฉลองการครบรอบ 76 ปี ของห้างสรรพสินค้าเซ็นทรัล และเป็นการขอบคุณลูกค้าทุกท่านที่สนับสนุนเราเสมอมา…
ศูนย์การค้าเซ็นทรัล เอ็มบาสซี และเซ็นทรัลชิดลม นำดอกไม้นานาพันธุ์จากทั่วทุกมุมโลก มาเนรมิตให้กลายเป็นดินแดนดอกไม้  มีทั้งการจัดตกแต่ง กิจกรรมพิเศษ และ Workshop 
เริ่มต้นจาก…
🌼Blooming Happiness 
ทางเชื่อม ชั้น 2 ศูนย์การค้าเซ็นทรัล เอ็มบาสซี และเซ็นทรัล ชิดลม
พบกับความสวยงามสุดอลังการของดอกไฮเดรนเยียร์หลากสีสัน เหมือนดั่งหลุดไปในโลกของดอกไม้ บริเวณอุโมงค์ทางเชื่อมศูนย์การค้าเซ็นทรัล เอ็มบาสซี และห้างสรรพสินค้าเซ็นทรัล ชิดลม 
🌹 From Roots to Blooms Market by Miracle of Nature 
ชั้น 5 ศูนย์การค้าเซ็นทรัล เอ็มบาสซี
ตื่นตาตื่นใจกับความอ่อนหวานของดอกทิวลิปมากมาย ที่ทาง Miracle of Natural ร่วมจัดบูธในรูปแบบจากฟาร์มสู่บ้าน เพื่อให้คุณได้ชื่นชมรวมทั้งสามารถเลือกซื้อกลับดูแลต่อที่บ้านได้อีกด้วย
💐Extraordinary Orchids by Air Orchid 
ชั้น 5 ศูนย์การค้าเซ็นทรัล เอ็มบาสซี
พบกับดอกกล้วยไม้พันธุ์พิเศษ "กลุ่มไม้เอเลี่ยน" อันหายากที่ทาง  Air Orchid 
นำมาจัดแสดงโชว์ให้ลูกค้าทุกท่านได้สัมผัสถึงความสวยงาม อีกทั้งยังสามารถหาซื้อกล้วยไม้พันธุ์ดีได้ที่งานนี้
💐EATHAI Flower Festival
ชั้น LG  ศูนย์การค้าเซ็นทรัล เอ็มบาสซี
อิ่มอร่อยกับเมนูอาหารและขนมหวานที่ได้แรงบันดาลใจจากดอกไม้
🌸OPEN MARKET : BLOOMS & BREW Matcha & Flower Market 
ชั้น 6 Open House ศูนย์การค้าเซ็นทรัล เอ็มบาสซี
🛍️Market  ช้อปอย่างเพลิดเพลินกับตลาดชาเขียวและดอกไม้ กว่า 29 ร้านค้า
🎶 Live Music เพลิดเพลินไปกับเสียงเพลงตลอดงาน
Workshop 
🌸 Tea Ceremony by Matcha & More 
🌸 Organic Aromatherapy Workshop by Rewildverse
🌸 Kids Workshop by Pumpkin Art Town
รายละเอียด Workshop เพิ่มเติม คลิก https://www.facebook.com/openhouse.ce

มาร่วมเฉลิมฉลองการครบรอบ 76 ปี ของห้างสรรพสินค้าเซ็นทรัลพร้อมกัน
CENTRAL 76TH ANNIVERSARY​
26 ต.ค. 66 – 30 ต.ค. 66
ศูนย์การค้าเซ็นทรัล เอ็มบาสซี และเซ็นทรัลชิดลม
In honour of the Central Department Store's 76th anniversary and expressing appreciation to our loyal patrons…
Central Embassy and Central Chidlom are transforming into a floral realm, showcasing an array of flowers from every corner of the world, complemented with exclusive events and workshops.
🌼 Blooming Happiness
Level 2, Central Chidlom link to Central Embassy 
Encounter the elegance of variegated hydrangeas, creating an impression of stepping into a floral paradise.
🌹 From Roots to Blooms Market by Miracle of Natural
Level 5, Central Embassy
Experience the tender allure of a plethora of tulips as Miracle of Natural exhibits a unique farm-to-home concept, inviting admiration and offering visitors a chance to purchase and nurture them in their own home.
💐 Extraordinary Orchids by Air Orchid
Level 5, Central Embassy
Discover the specially curated "Alien Group" orchids, a scarce spectacle that Air Orchid takes pride in exhibiting. Delight in the beauty on display and the opportunity to purchase these specimens for your own collection.
💐EATHAI Flower Festival
Level LG, Central Embassy
Indulge in delightful meals and desserts infused with flowers. 
🌸 OPEN MARKET: BLOOMS & BREW Matcha & Flower Market
Level 6, Open House, Central Embassy
🛍️Matcha & Flower market 
🛍️ Market Delight in a restorative shopping experience within a marketplace comprising various vendors, each emphasizing green tea and floral products.
🎶 Live Music Absorb the melodious tunes providing ambient music.
Matcha & Flower Workshops
🌸 Tea Ceremony by Matcha & More
🌸 Organic Aromatherapy Workshop by Rewildverse
🌸 Kids Workshop by Pumpkin Art Town


OPEN WORKSHOP By Daddy Farmhouse
Level 6, Open House, Central Embassy
👧👦 Saturday – Sunday, 28th – 29th October '23
Exclusively for children, featuring activities from OPEN WORKSHOPS BY DADDY FARMHOUSE: Creative explorations in Butterfly Suncatcher crafting and Plant Plot 

Click for more information https://www.facebook.com/openhouse.ce
Come together to commemorate the 76th anniversary of the Central Department Store. The festivities will soon begin.
CENTRAL 76TH ANNIVERSARY 
26 Oct '23 – 30 Oct '23
CENTRAL CHIDLOM | CENTRAL EMBASSY 
#Central76thAnniversary 
#CentralEmbassy #CentralChidlom