22 Sep

7th Anniversary Winners Announcement: Dining

7TH ANNIVERSARY: LUCKY TO THE MOON

7TH ANNIVERSARY: LUCKY TO THE MOON

 

 

ประกาศรายชื่อผู้โชคดีจากกิจกรรม 7TH ANNIVERSARY: LUCKY TO THE MOON
รางวัลโค้ดส่วนลดมูลค่า 3,000 บาท สำหรับใช้เดินทางภายในประเทศ จาก Bangkok Airways (จำกัด 50 รางวัล)
สมาชิก The 1 รับ 1 สิทธิ์ในการลุ้นรับรางวัล เมื่อรับประทานอาหารครบทุก 500 บาท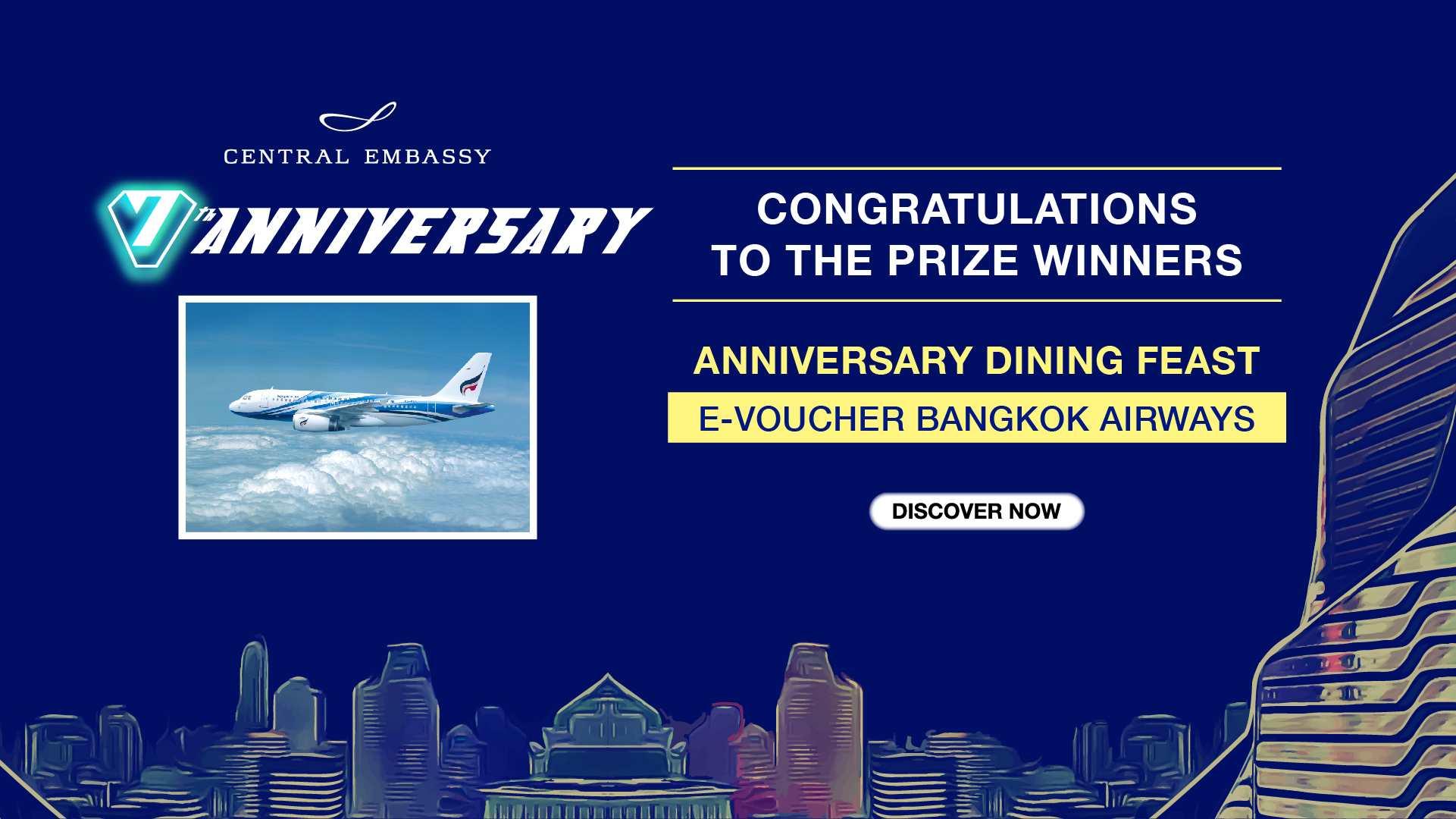 | | | |
| --- | --- | --- |
| คุณ | มหิธร | พงษารัตน์ |
| คุณ | ชุตินาถ | องค์โฆษิต |
| คุณ | มลฑาทิพย์ | บัวชุม |
| คุณ | สมนึก | พาอินทร์ |
| คุณ | กิตติศักดิ์ | จงสุวณิชย์ |
| คุณ | ณรงค์ | แต่โสภาพงษ์ |
| คุณ | ประชัย | เศรษฐปิยานนท์ |
| คุณ | ปณิธิพัทธ์ | สุขสมบูรณ์ |
| คุณ | ศศินพร | ไชยสวัสดิ์ |
| คุณ | กัลยา | เฉลิมโชคชัย |
| คุณ | วันเผด็จ | หงษ์ทอง |
| คุณ | นิตยกานต์ | เจริญธรรม |
| คุณ | มลิสา | ศิระวิศิษฏ์พร |
| คุณ | ฐปนี | มนต์เสรีนุสรณ์ |
| คุณ | ธัญวรรณ | เทพหัสดิน ณ อยุธยา |
| คุณ | ณปภัช | ภักตรนิกร |
| คุณ | ศักดิ์สิทธิ์ | ธีระพรสถานนท์ |
| คุณ | วรวรรณ | ตั้งตรงศักดิ์ |
| คุณ | ณพฤดี | จันทราทิพย์ |
| คุณ | อรรถสิทธิ์ | สรรพวัฒน์ |
| คุณ | สหโรจน์ | ปัญจพลาสม |
| คุณ | ธนภัทร | ปิยะนนท์พงศ์ |
| คุณ | สุชาดา | สิริศุภางค์ |
| คุณ | สุกุมล | คุณปลื้ม |
| คุณ | จิตติมา | หงศ์ลดารมภ์ |
| คุณ | วรรณภา | ตั้งบรรยงค์ |
| คุณ | มยุรฉัตร | สาระวรรณ |
| คุณ | ปาณิศา | รุ่งนพคุณศรี |
| คุณ | ณริดา | กรีชัยศรี |
| คุณ | พัชรา | แจ้วจิรา |
| คุณ | กันตภณ | จินันท์ธนพัฒน์ |
| คุณ | สศิรา | อภิรัชเหมภาส |
| คุณ | มนชิสา | อิสราวรากุล |
| คุณ | อรอุมา | โภควัฒนโชติ |
| คุณ | อมรรัตน์ | ทองโบราณ |
| คุณ | วัชลาภรณ์ | กลิ่นเกษร |
| คุณ | ธีระ | วยากรณ์วิจิตร |
| คุณ | สิทธิบัญญ์ | บุญสาย |
| คุณ | วิวัฒน์ | ทองสุข |
| คุณ | เกณฑ์ | กาญจนกูล |
| คุณ | ZOU | RUOXI |
| คุณ | ประกายดาว | เศรษฐปิยานนท์ |
ขอขอบคุณที่เข้าร่วมสนับสนุนกิจกรรมของศูนย์การค้าเซ็นทรัล เอ็มบาสซี มา ณ ที่นี้
---
สิทธิพิเศษ สำหรับลูกค้าเซ็นทรัล เอ็มบาสซี
ลูกค้าเซ็นทรัล เอ็มบาสซี ที่ได้รับรหัสส่วนลด มูลค่า 3,000 บาท สำหรับการซื้อบัตรโดยสารแบบไป-กลับ ทุกเส้นทางบินตรงภายในประเทศ ที่เริ่มต้นเดินทางออกจากประเทศไทย (กรุณาศึกษาข้อกำหนดและเงื่อนไขด้านล่าง ก่อนทำการสำรองที่นั่ง)
ระยะเวลาสำรองที่นั่ง : 1 กรกฎาคม 2564 – 1 กรกฎาคม 2565
ระยะเวลาเดินทาง : 1 กรกฎาคม 2564 – 1 กรกฎาคม 2565
วิธีการใช้รหัสส่วนลด (Promotion code)
นำรหัสส่วนลดที่ได้รับมาใส่ในช่อง "รหัสโปรโมชัน" ระบบจะแสดงราคาส่วนลดพิเศษให้เมื่อเลือกเที่ยวบิน จากนั้นเมื่อเลือกเที่ยวบินแล้ว ดำเนินการตามขั้นตอนต่อไป จนถึงขั้นตอนการชำระเงินเพื่อให้กระบวนการจองเสร็จสมบูรณ์
เงื่อนไขและข้อกำหนดในการใช้รหัสส่วนลด
รหัสส่วนลดนี้สำหรับสำรองที่นั่งบัตรโดยสารแบบไปกลับ ทุกเส้นทางบินตรงภายในประเทศ ที่เริ่มต้นการเดินทางจากประเทศไทย และทำการบินโดยสายการบินบางกอกแอร์เวย์สเท่านั้น
รหัสส่วนลด 1 รหัส สามารถใช้สำรองที่นั่งได้เพียง 1 ครั้ง และสำหรับผู้โดยสารผู้ใหญ่ 1 ที่นั่งต่อการจอง เท่านั้น
รหัสส่วนลดนี้ ใช้เป็นส่วนลดในการสำรองที่นั่งผ่าน bangkokair.com/centralembassy ในรหัสชั้นโดยสาร (Booking Class) R, A, O หรือ P เท่านั้น ซึ่งมีจำนวนจำกัดในแต่ละเที่ยวบิน และไม่สามารถใช้ร่วมกับโปรโมชั่น และ/หรือ ราคาพิเศษอื่นๆ ได้
รหัสส่วนลด 3,000 บาท สามารถใช้เป็นส่วนลด เฉพาะค่าโดยสารเครื่องบินที่มีมูลค่า 3,000 บาทขึ้นไป และไม่สามารถใช้กับค่าภาษีสนามบิน, ค่าธรรมเนียมใด ๆ หรือการประกันการเดินทาง
รหัสส่วนลดนี้สามารถใช้จองได้ทุกวัน ไม่เว้นช่วงวันหยุดยาวหรือวันหยุดนักขัตฤกษ์
รหัสส่วนลดนี้ไม่สามารถแลกเปลี่ยนเป็นเงินสด, ต่ออายุหรืออื่น ๆ ได้
เงื่อนไขของบัตรโดยสารขึ้นอยู่กับระดับชั้นโดยสาร (Booking Class) ที่ได้ทำการสำรองที่นั่ง
ขอบเขตของที่นั่งบนเที่ยวบินขึ้นอยู่กับราคาที่เลือก
การจัดสรรที่นั่งบนเที่ยวบินอยู่ภายใต้ดุลพินิจของเจ้าหน้าที่ ณ จุดเช็คอินที่สนามบินสำหรับการจองที่มิได้มีการเลือกที่นั่งมาล่วงหน้า
บางกอกแอร์เวย์สขอสงวนสิทธิ์ เพิ่ม เปลี่ยนแปลง แก้ไข ข้อตกลงและเงื่อนไขที่ระบุไว้นี้
การสะสมคะแนนฟลายเออร์โบนัสจากการเดินทางไปเป็นตามข้อกำหนดและเงื่อนไขของรายการสะสมคะแนนฟลายเออร์โบนัส สามารถศึกษาข้อมูลเพิ่มเติมที่ bangkokair.com
ติดต่อสอบถามกรณีติดปัญหาการสำรองที่นั่งสายการบินบางกอกแอร์เวย์ส โทร. 1771 หรือ +66 (2) 270 6699 ภายในเวลาทำการ
EXCLUSIVE OFFER FOR CENTRAL EMBASSY CUSTOMERS
Central Embassy Customers who received a THB3,000 discount code for all direct domestic destinations departing from Thailand (Please read and review the terms and conditions as stated below before reservation)
Ticketing Period : 1 July 2021 – 1 July 2022
Traveling Period : 1 July 2021 – 1 July 2022
How to use Promotion Code
Simply use the promotion code received from Central Embassy to book flight(s) online by filling in "Promotion Code"; the system will display the discount flight fare once flight was selected. Continue with the flow until the payment is made to fully complete the booking process.
Terms and Conditions
The promotion code is eligible for all direct flight, round trip domestic destinations departing from Thailand and operated by Bangkok Airways.
The promotion code is applicable for 1 time and 1 adult per booking only
Bookings must be made via www.bangkokair.com/centralembassy under the booking classes R, A, O or P only and cannot be used in conjunction with any other offer/promotion.
The discount applies on the airfare over THB3,000 only and does not extend or apply to any applicable airport tax, fees, or travel insurance.
The promotion code can be used for reservations at all times including weekends and public holidays.
The promotion code is non-refundable and unable to be exchanged for any cash or kind
Ticket conditions of Bangkok Airways apply; conditions of each ticket may vary in accordance with the class of booking.
Eligibility of seat selection is subject to the chosen fare hierarchy
Seat assignment at the check-in counter will be managed under our staff discretion for reservation without preselected seat
Bangkok Airways reserves its absolute right at any time to add, alter, modify, change or vary any or all of the terms and conditions stated herein.
To earn FlyerBonus points, Terms and Conditions of FlyerBonus apply. More information can be obtained at flyerbonus.bangkokair.com
For booking assistance, please contact Bangkok Airways Call Center 1771 or +66 (0) 270 6699 during office hours.