22 Jul

DEAR MOM AND ONLY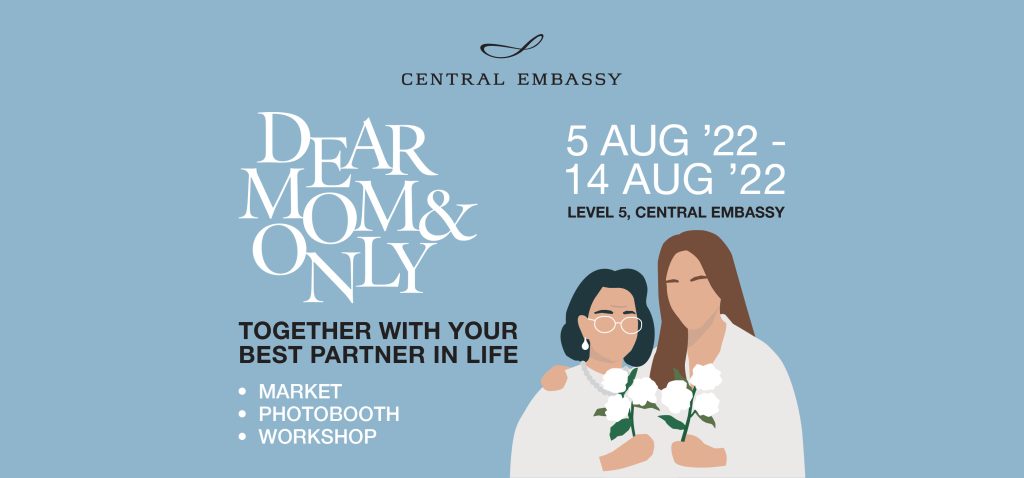 DEAR MOM & ONLY 
เตรียมพบกับกิจกรรมสำหรับวาระพิเศษ เพื่อคนพิเศษที่หนึ่งในใจของคุณ
พบกับร้านค้า และกิจกรรมเวิร์คชอป ที่คัดสรรมาเพื่อคุณ และคนพิเศษของคุณ ในช่วงวันแม่นี้ 
𝐆𝐢𝐟𝐭 𝐌𝐚𝐫𝐤𝐞𝐭
17 ร้านของขวัญให้คุณมาเลือกหา ทั้งงานคราฟท์ เครื่องประดับ หรือแฟชั่นชิ้นพิเศษ สำหรับคนที่คุณรัก
𝐒𝐍𝐀𝐏 𝐒𝐞𝐫𝐯𝐢𝐜𝐞 𝐏𝐡𝐨𝐭𝐨𝐛𝐨𝐨𝐭𝐡
ถ่ายภาพเก็บไว้เป็นความทรงจำ สำหรับช่วงเวลาพิเศษแห่งปีของคุณและคนที่คุณรัก ด้วยภาพถ่ายและเฟรมน่ารัก ๆ เพียงแสดงใบเสร็จ 500 บาทสำหรับการร่วมกิจกรรม
𝐀𝐫𝐨𝐦𝐚 𝐓𝐞𝐫𝐫𝐚𝐫𝐢𝐮𝐦 𝐖𝐨𝐫𝐤𝐬𝐡𝐨𝐩
 5 ส.ค. 65 – 14 ส.ค. 65 นี้

ชั้น 4 ศูนย์การค้าเซ็นทรัล เอ็มบาสซี
 คลิกเพื่อดู สิทธิพิเศษและโปรโมชั่นมากมายช่วงกิจกรรม Dear Mom & Only
—————————
Take a moment to celebrate this special time with your partner for life. Because there's only YOU, who can 𝐌𝐚𝐤𝐞 𝐇𝐞𝐫 𝐃𝐚𝐲.
𝐆𝐢𝐟𝐭 𝐌𝐚𝐫𝐤𝐞𝐭
Browse through curated gift ideas from 17 stalls with handcrafted goods, fashion, jewelry & more.
𝐒𝐍𝐀𝐏 𝐒𝐞𝐫𝐯𝐢𝐜𝐞 𝐏𝐡𝐨𝐭𝐨𝐛𝐨𝐨𝐭𝐡
Snap the best shot with your best life partner, adorned with special frames only for this event. Present a min. 500 Baht dining receipt for 1 photo.
𝐀𝐫𝐨𝐦𝐚 𝐓𝐞𝐫𝐫𝐚𝐫𝐢𝐮𝐦 𝐖𝐨𝐫𝐤𝐬𝐡𝐨𝐩
Create your scent of love and fond memories from dried petals and fruits. Present a min. 300 Baht dining receipt for 1 seat
5 Aug '22 – 14 Aug '22
Level 4, Central Embassy   
Click Here  for Dear Mom & Only promotion & privilege