25 Aug

SNAP & SHOP WITH CE TV EP.1 – THE HOLIDAY X GOY ARACHAPORN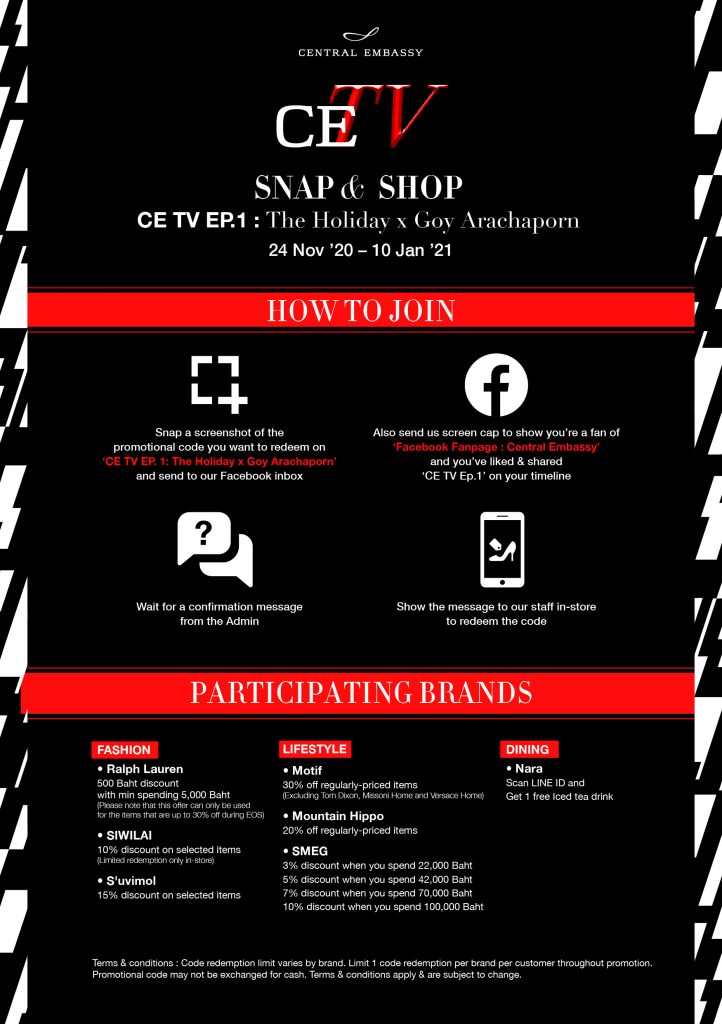 SNAP & SHOP WITH CE TV EP.1 – THE HOLIDAY X GOY ARACHAPORN
ร่วมสนุกกับกิจกรรม Snap & Shop ดูสนุก ช้อปสนั่น ลุ้นรับโปรโมชั่นสุดพิเศษกับ CE TV EP.1: The Holiday x Goy Arachaporn เพียงแคปภาพรหัสโปรโมชั่นจากวิดีโอของเรา
   

HOW TO JOIN
• Snap a screenshot of the promotional code you want to redeem on 'CE TV EP. 1: The Holiday x Goy Arachaporn' and send to our Facebook inbox.
• Also send us screencaps to show you're a fan of 'Facebook Fanpage: Central Embassy' and you've liked & shared 'CE TV Ep.1' on your timeline.
• Wait for a confirmation message from the Admin.
• Show the message to our staff in-store to redeem the code.
• Activity period: 24 Nov '20 – 10 Jan '21.
TERMS & CONDITIONS
• Code redemption limit varies by brand.
• Limit 1 code redemption per brand per customer throughout promotion.
• Promotional code may not be exchanged for cash.
• Terms & conditions apply & are subject to change.
——————————————————————–


เงื่อนไขการรับสิทธิพิเศษจากกิจกรรม SNAP & SHOP
1. แคปภาพรหัสสิทธิพิเศษจากวิดีโอ CE TV EP.1: The Holiday x Goy Arachaporn ที่คุณต้องการ ส่งมายืนยันการรับสิทธิทาง Facebook Inbox ของเพจ Central Embassy 
2. โชว์หลักฐานการกดไลก์ Facebook Fanpage: Central Embassy และกดไลก์และแชร์วิดีโอ CE TV EP.1 ทาง Inbox
3. แอดมินส่งข้อความยืนยันการรับสิทธิ์
4. คุณนำข้อความยืนยันการรับสิทธิ์มาแสดงกับพนักงานหน้าร้านสาขาศูนย์การค้าเซ็นทรัล เอ็มบาสซี 
ระยะเวลาการร่วมกิจกรรม 24 พ.ย. 63 – 10 ม.ค. 64


หมายเหตุ: 
1. สิทธิพิเศษของแต่ละแบรนด์มีจำนวนจำกัด ศึกษารายละเอียดเพิ่มเติมจากโปสเตอร์
2. จำกัดสิทธิต่อ 1 ท่าน/ 1 แบรนด์ ตลอดรายการ
3. ไม่สามารถเปลี่ยนแปลงเป็นเงินสดได้
4. ขอสงวนสิทธิ์ในการแจกของรางวัลให้กับผู้ที่มีเงื่อนไขครบตามกำหนดก่อนหรือจนกว่าของรางวัลจะหมด
5. เงื่อนไขการร่วมกิจกรรม เป็นไปตามที่บริษัทฯ กำหนด โปรดตรวจสอบเงื่อนไขเพื่มเติม ณ ร้านค้าที่ร่วมรายการ ที่ศูนย์การค้าเซ็นทรัล เอ็มบาสซี เท่านั้น